Ecolibrium: The Idea
The project we envision will be a community-driven area at the farm which will be open for all to come and be part of our Eco Experience. The Ecolibrium compound will consist of a central multifunctional building, agroforestry gardens, a wood workshop, bio constructed accommodations, fishponds, hydroelectric plants, and greenhouses. Ecolibrium will be constructed on a vast 18,000 square meter piece of Eco Caminhos' land, as we want it to be the central hub for everything that happens in the Eco Farm, especially for the community of the Eco-Village and of all our Eco Tourism activities. We want this project to combine all that we are and all that we envision we can be in the future; a place to showcase our philosophy and all that we do.
At Ecolibrium, people will have the chance to build bioconstruction houses, grow plants and vegetables, pluck fruits from the trees, milk a cow on a fresh Brazilian morning, and learn how to use all of the natural ingredients we have to make delicious and healthy meals.
For those who wish to learn about permaculture, bioconstruction, agroforestry, and healthy food, we also want to offer workshops, courses and immersion programmes.
Initial layout sketch

We have split the building of the whole compound into a step by step plan, in order to reduce risks and to be able to start generating income during the initial stages of the project, by planning in a way so that each part of the project we build, will help finance and build the stage that follows. In the following text, we have detailed what we will focus on the building during the initial phase and a brief description of the intended function of each subproject.
It's important to state that all buildings shall be built using bio construction methods, and amongst our team, we already have the skills, experience, and knowledge to erect these buildings.
Project Goals
We set ourselves the following goals:
Follow permaculture principles: We set ourselves the goal to follow the permaculture principles at all times, to limit the negative impact on the environment and the community.
To attract children, adults and the elderly to experience the magic and simplicity of a self-sustainable farm. We want to share a place where people will be able to put their hands in the dirt in the garden, in bioconstruction, and also pick up fruits and vegetables to prepare their own meals, and we want this experience to be available for everyone.
Center of knowledge exchange; We want to be a center from which to share, not to keep this knowledge for ourselves. Any type of knowledge that falls under the permaculture philosophy can be shared. We want to organize and host workshops, courses, conferences, events, and meetings etc. Not only to share what we know but for others to bring their own knowledge here and share it with the world as well.
Invite the underprivileged for support, vocational training and learning practical, sustainable skills. First of all, we want to make farming and bioconstruction exciting and available to those who would benefit the most from it. To show the beauty of planting, harvesting and eating your own food. For everyone to feel the satisfaction of building your own house with natural non-pollutant materials and with your own hands and we want people to have a chance to experience the freedom of being self-sustainable since it allows people to be less dependant on poorly paid and low-skill jobs and hence break the cycle of poverty.
Create a community center for our Eco Farm. So far at the farm there is no real central location, for meetings, discussions and more projects to come: We want to build a stable and vibrant community here. An Eco Village with a large group of passionate people that will discover and construct here an alternative way of living, a project to dream and work with, and a community to be a part of. We envision a future where permanent long term members, short term volunteers and underprivileged teens from our apprenticeship programme, live together in a single shared central location, supporting each others experience and growth day to day. This central compound will be teeming with comfort, beauty, and integrated with nature in a balanced way with its surrounding ecosystem, it will be a place all can call home and will inspire them to keep growing within Eco Caminhos and to push themselves and the project forward.
To generate income for the Eco Farm and the people that make a difference: We realize that being truly self-sustainable is not only a matter of food, energy, and water but that we also need to be self-sustainable financially. Not for capitalistic ideals, but instead so that we can keep educating, helping the community and teenagers in need, building bioconstruction projects for the locals, and offering a stable future for people that want to live differently and in balance with nature, and specially to be able to keep offering all of this for people in need as a possible pathway out of poverty.
Why Ecolibrium? The backstory
Many people in the world today live stacked up on top of each other in concrete boxes, eating food from plastic packaging – oblivious to the source of the food they're choosing to consume — and during their day to day lives, they choose to stay seated and staring into screens for work. A lot of children in Brazil grow up under this conditions, polluted cities, surrounded by screens, consuming mass-produced synthetic foods heavy with pesticides, dealing with overweight and with poor education and as the years have gone on, children have lost their contact with nature as well. While wealthier children grow up to work in office jobs, poor children grow up only to depend on poorly paid low skilled jobs barely to survive. If we keep following this path, it could very well be a route to befalling a range of physical disorders, many of which some of us at Eco Caminhos where having to deal with prior to coming to the Eco Farm.
Over the past years we discovered that many volunteers and visitors who have come to experience life at the farm they have found that society of today does not recognise the wholesome benefits of places in which people can connect with nature on a daily basis, live and work together as a community, while experiencing the magic of eating your own cultivated food, or building your own eco home. We believe that we can and that we should, bring this simple yet seemingly forgotten way of life to light, and allow those who will benefit the most from it to experience it fully, we believe it to be the cure of some of the main problems of society today and for it to also be a path to a more sustainable, healthy and enjoyable life, roadway out of poverty for many.
We envision a future in which we can share this way of life and its benefits with teenagers and youngsters in need, so that they may have a fair opportunity to flourish, be happy and grow so that they can hopefully one day contribute back to society as well.
How we approach to project development
Over the past year, we have had many brainstorm sessions, design sessions and discussions to realize and give shape to our dreams to contribute to the world from our farm. Also, Eco Caminhos has acquired knowledge and formed the basis of our team, all of this was the first stage, and now it is time to take the next step by opening up to the community, and sharing what we have envisioned with the world.
We are realistic about the situation in Brazil, a country which has big issues with economic and political instability, problems we have learned to deal with. Also thanks to Bart's experience running an NGO orphanage for 6 years we are aware that depending on public donations is unsustainable, we need to provide a stable income for the permanent members of the community and cover operational costs ourselves if we want to have an impact in the community long-term and realize this dream successfully.
Finally, we trust that anything is possible as long as you wholeheartedly believe in it and are willing to put in the necessary effort into it, you need to have the patience and be prepared to overcome the obstacles ahead on the path to achieving our ambitious plans, since we see all these obstacles as challenges to overcome and learn from. We are inspired by our deep drive to contribute back to society and the environment, we want to help people in need and create an ideal place from which to share all that Eco Caminhos is and has to offer.
Multifunctional Space (Test Restaurant, Education Hub and Community Building
We want to build a multifunctional space using bioconstruction methods, at the center of the Ecolibrium volunteer compound. The communal building will be located on a space of 944 square meters, at the highest point of the Ecolibrium terrain. The communal space itself will be a 100 square meter building with a large kitchen area, bathrooms, dining area, and a living area, with large windows to allow a clear view of the surrounding mountainous landscape.
This space will be the central hub of the volunteer's village around it, a comfortable place in which to socialize and gather. Initially, it will act as the ideal space to host courses and talks, it will also work as a pilot restaurant to test the viability of the final restaurant further down the Ecolibrium road. This space will have a large central fireplace and chimney, with a cob oven and a heated cob sofa encompassing it.
The volunteers are currently living in two houses rented by our neighbors. This accommodation is rather basic, and a weight on the Eco Caminhos funds that could be better spent elsewhere throughout the project, so along with the building of the multifunctional communal building we shall build four bedrooms which each will house two people each, providing the volunteers with comfortable housing.
The building will have the following functions:
Restaurant: To serve food for clients, volunteers, tourists, students, and trainees. In which we can also teach how to cook food produced on the farm.
Course center: We plan to offer courses and workshops in agroforestry., permaculture and bioconstruction. The theoretical side can be offered inside of the central community space, the practical part outside. We plan to invite qualified teachers from across the globe.
Meeting Centre: For all meetings and indoor activities the multifunctional community building, it will be used for when we organize Music, Cinema and Game nights as well.
Yoga, Martial arts, Meditation: Ideal location for a range of arts and activities such as meditation and yoga classes.
Accommodation: It will be surrounded by accommodations primarily for members of the community, volunteers, teens in the apprenticeship and also for visitors.
The building will follow the appropriate legalization laws in Brazil and will be built using sustainable bio-construction methods.
Initial Designs
As you can see from the initial designs; our idea is to have the communal area at the front of the building, and link it to a central garden, having the volunteer rooms around it.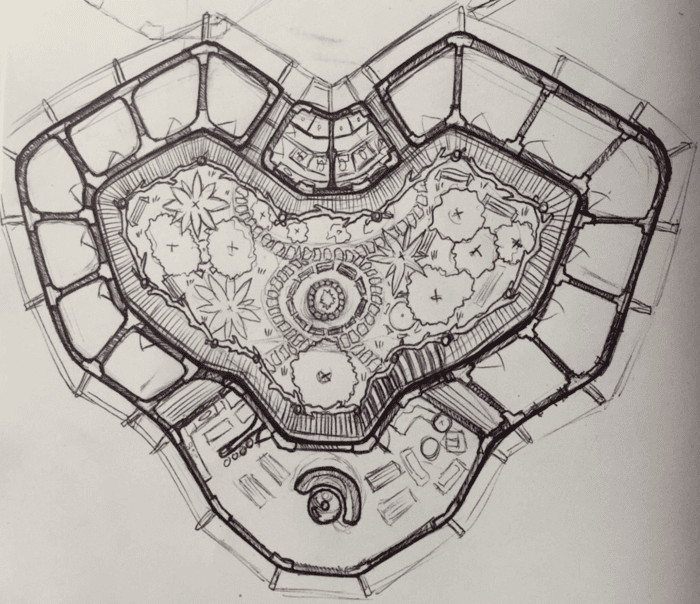 Initial sketches of the multifunctional communal building and the accommodations
The proposed structure for the bedrooms for the trainee (teenagers)  and volunteers (not to scale)
Central cob oven, fireplace and chimney, with the heated cob seating area surrounding it
Once we have completed the initial stages and have gained some income, we shall be able to continue with the construction of the remainder of the compound.
We will turn most of the area into agroforestry that will produce herbs, vegetables, fruits, and wood for construction projects. There will be a three-level stepped lake with small turbines to generate electrical power. At the center, there will be a final organic restaurant, and multi-functional big space, it will serve as a location for workshops, courses, and events. From within the compound, you should see the vegetable and herbs gardens in front and the agroforestry and lakes at the back and laterals. The food you eat will come directly from the land around the restaurant. We want to provide all visitors with our eco-experience and show that living a healthy and sustainable lifestyle can be a rewarding, enjoyable, and hopefully eye-opening experience for everyone.
Function Buildings – In relation to the design, we have decided that the main focal point of the compound will be two multifunctional spaces in order to receive tourists, students, and youngsters in the future. This space is will be an important part of the compound as it will also house the majority of the activities we will undertake within the compound, the restaurant, courses, yoga sessions, meetings, seminars and perhaps even live music.
Garden – Another focal point of the compound will be the large vegetable garden. This will provide food for the entire restaurant and will be a showcase of eco-farming; giving us a chance to involve customers in an eco experience. We will offer them the chance to choose their own food for us to cook so that they can have the added appreciation and knowledge of the food that they are receiving and from where it came.
Camping Area – We have had groups join the project for some time now, with the intention to learn and experience with us. These opportunities are chances for us to showcase our way of life, in hopes that those who do join us here, leave with new knowledge and go on to share what they've learned with friends and family.
This is why we have decided to place a camping area within the compound, close to the volunteer area, so we are able to spend as much time together as we can, as a community.
Sports ground – A fantastic way to bring people together is through group activities. By creating a sports ground within the compound, this gives us the ability to house sporting events and team activities, joining together the local community, visitors and volunteers; connecting people through teamwork and competition.
Car Park – The car park shall be at a level which will be overlooking the majority of the compound (expected for the volunteer compound, which will be higher up for the sake of privacy), so that once customers arrive and step out of their cars, they'll instantly be shown the fantastic view of the compound, along with the mountains behind. We intend for it to give the feeling of being pulled straight into the environment and out of the city rhythm. Also on top of the parking area, we intend to set up solar panels and wind turbines, this combined with several other renewable energy sources distributed around the farm, will provide the site with the required energy. Having this on top of the car park will give us the perfect opportunity to showcase and teach about one of the most important parts for living sustainably nowadays as soon as the visitors arrive, setting up the stage for the rest of the experience ahead.
Stepped Lake – The stepped lake is a feature that will provide us with a chance to present another piece of natural beauty within the compound. With surrounding seating areas, a rice field on the first lake and the chance to go fishing at the base of the lake, we believe this will be a beautiful attraction for all to enjoy.
Agroforestry – We would like to use most of the compound space for agroforestry. In our Eco Farm, we are always looking to improve our methods and techniques. By using Agroforestry we will be able to plant trees, fruits, vegetables, and herbs alongside one another and they will grow more efficiently as a balanced ecosystem. Agroforestry has a tremendous positive impact on the environment and natural ecosystems since they produce high levels of plant diversity, uses many native plants, all of which supports several animal species, including humans. This avoids all of the monoculture's negative consequences entirely while still producing big amounts and a wide variety of consumable foods and goods and without the need to use any sort of pollutants, chemical fertilizers or pesticides.
Wood Workshop
We want to start by building the Wood Workshop, as currently, we do not have a large enclosed space to work at the farm. This means that on certain tasks we are only able to work when the weather permits and in turn our work rhythm can be affected. Having this space will allow us to work at all hours of the day regardless of the weather conditions and provide us with housing for tools, workbenches, and materials. At the workshop, we also shall be able to fabricate furniture, doors, and windows for the buildings that are yet to come on the farm.
The Workshop will also be an ideal space for teaching visitors, tourists, underprivileged youngsters, and volunteers to work with tools and fabricate with wood, bamboo and other natural building materials. By having this space available to us we will be able to produce and sell furniture and other products to generate income. This construction will initially also serve as a temporary central hub from time to time, a place from where to organize curses and activities with large groups of people. Having enough covered space for people to stay in, eat and others will significantly help at all stages of the project.
Within the workshop we will be able to teach the following skills:
How to work with carpentry tools
Maintenance of hand tools for the agroforestry, garden, and bio-construction
Woodwork skills: making windows, doors, tables, chairs, etc.
Self-sustaining project – Social Business
Our vision is that the Ecolibrium project should be fully self-sustainable when it comes to food, water, waste management, energy and importantly as well, financially. As we are a social enterprise, we need to generate income to be able to self-sustain the farm, all our social programs, the community, and future projects. The reality is that without resources we cannot help the underprivileged youth to the best of our ability; the reality is that offering free programmes and supporting them financially does require funding.
This means if we are to achieve the goals that we have envisioned, income generation will need to be one of our priorities.
How will the project sustain itself?
As we know there must be a balance between sharing knowledge, experiences but also income generation to reinvest into the farm, sustain the long-term volunteers that are a key part of the project and also to invest in vocational training for underprivileged Brazilians youth.
We see the opportunity in these following methods for sources of income:
Ecotourism and Eco experience programme (1 day – 3 months)
Restaurant day experience (Selling a full-day experience and food within the compound)
Paid workshops and courses in bioconstruction, eco-farming, and permaculture
Sales of products from the farm (fruits, vegetables, art, etc)
Our home, Eco Caminhos
At Eco Caminhos, we strive to live our dreams. We allow ourselves to create the environment we want to live in, both for us and for those in need who would benefit from it the most. Throughout the past few years, we have built a bioconstruction house, a bridge, and we are currently working on a second main house within our farm. Last year we started with organic farming and agroforestry. We also focus heavily on the community around us, by helping our neighbors refurbish their house, finishing the main building of a local school and also planting an organic garden for them, all with sustainable techniques and materials. We are slowly becoming more and more self-sustaining in food, energy, and building, but there is still a long road to go. We invite people to join us from the start of our projects to experience the development of our farm. At the moment we do not offer ready and finished products but rather, we like to give people the opportunity to experience an Eco Farm and its evolution. After deciding to build a self-sustaining farm here in Cardinot, we are now developing each part of it step by step, in order to become more self-sustainable and ready to receive people in need so that they can learn and share this experience with us. We strongly believe this environment and way of life can help society as a whole and individuals directly, this knowledge we share and the hard work on creating a natural, friendly and healthy environment is ideal for teenagers in need and it is for them that most of this project is for.
Project Team: Who are we?
The permanent team members of the Ecolibrium project are:
Bart Bijen.
I am Bart from the Netherlands and I have lived in Brazil for over 10 years. I am an engineer in climate control for buildings and have an international MBA in management. I ran an orphanage for 6 years in Brazil and set up a language school in Rio de Janeiro in 2009, which has grown to become the largest Portuguese school for foreigners in Brazil and now has its own on-site social programme for children from the local communities (favelas). I founded Eco Caminhos in 2014 and I am currently the managing director of the project.
Nathaniel Joshua Smith
I joined Eco Caminhos in 2017, I came from England to Brazil from university, with the longing to learn about bio-construction, community living, and permaculture.
I hope to get to a stage where I have the knowledge to build my own bioconstruction home and go on to use what I have learned to offer my hands to help where needed throughout the world, whether it be within bio-construction or social projects.
Daniel Balcazar
I'm a Colombian Designer and Artist, I have always been deeply in love with nature and I'm convinced that we must find new ways to fit the modern human into its ecosystems. Creating a new paradigm that has the awareness that we are all codependent pieces of a profoundly interconnected system of life, in order to hopefully create a new way of life in which both nature and humans can flourish as one. I came to Eco Caminhos by the end of 2017 and I believe it to be the ideal place to start this new paradigm, by integrating Permaculture and different sustainable practices in the middle of nature, coupled with social programs, I hope to help build here this new and balanced way of life.
Roger Bijen
I'm Dutch and I was an IT Professional before I joined Eco Caminhos in may of 2015. Then I realized quickly that with this way of living I feel much healthier and happier. I enjoy working outside, getting my hands dirty, being creative and having a varied job. I became responsible for the more technical jobs. For example, construction or electrics. I love a good challenge and learning new techniques or old ones like cob construction or timber framing.
After two years, I settled down here and am now convinced that I'll stay with the project.  
Joining the team- The Ecolibrium
This is the exchange wherein which we want to find the right equilibrium between what people receive and what people have to offer. We have simplified this into a few categories:
Those bringing applicable skills to the project
Those arriving without applicable skills, but with the will to learn and with the financial means to support themselves
Those arriving without applicable skills but also without the financial means to support themselves
Those requiring special care
Those bringing applicable skills to the project
Those arriving with applicable skills will join our team and enjoy the learning and experience the farm, in exchange for their skills and effort. The minimum period of time depends on the skills the person brings. For example, a video maker could make a video here at the farm and in return learn about bioconstruction with us.
We offer accommodation, food and after a period of 3 months the opportunity to participate in project development. In the future, these people may be able to generate their own income. read more
Those arriving without applicable skills, but with the will to learn and with the financial means to support themselves
For these volunteers, we offer paid volunteer programmes that last up to 3 months.
These programmes allow people to live and participate in the Eco Farm. Instead of working 5 days per week people can choose to work 3 days per week if they so wish, in order to adjust to the physical jobs at the farm. There is also extra leisure time for hikes, horseback riding, campfires, camping weekends and volunteer nights. These volunteers may be invited to stay with us within our free programme after they complete 3 months with us. In the future, we will also start offering day, week, and weekend courses once we have the structure to offer these courses at the Ecolibrium compound. read more
Those arriving without applicable skills and without financial means to support themselves:
Due to the financial limitations of these volunteers and lack of opportunity, whether it be a lack of education or poorly paid jobs; these people are unwillingly put in a cycle of having to work to survive, with little prospect of a wider future. This one our motives behind us here at the Eco-Farm wanting to work with the youth. The founder and director here at Eco Caminhos, experienced during his period as an orphanage director, that this is the group which is most vulnerable in the society as it stands. There are a large number of programmes for kids, some for teens, but once teens turn into young adults, most are seen as a problem for society, even though these youngsters weren't given the opportunity or gateway to make a different choice in their lives.
In order to make a difference in the lives of these youths, we would like to invite teenagers to the join us at the Eco-Farm for a period of 1-2 years, to take part in a quality, all-inclusive apprenticeship programme.
These youngsters can stay with us until they're ready to leave or their apprenticeship programme comes to an end and they'd like to look together for paying jobs outside of Eco Caminhos.
In the future we want to start inviting children and elderly on a programme similar to this one adjusted to their specific needs. read more
Those requiring special care
Here at Eco Caminhos we have naturally, without planning it, found ourselves aiding people who come to the project suffering from depression, we have helped them to find a new lease of life. Some of the volunteers we have received, arrived carrying serious depressions or traumas and by becoming a part of our community, participating in the work structure, being amongst and having the close contact with nature, eating a healthy diet provided for them, and being within a respectful, calm environment where we strive to be accepting and open to talk about our feelings, we noticed a gradual improvement in the mindset of these volunteers, and aided them in discovering a thing or two about themselves and the things that really matter in life.
For now, we ask for a fee from those who wish to join our light rehabilitation programme; but once we are able to increase our income we are would like to receive local Brazilians without resources for our light rehab programme. read more
Financial kick-starter – Let's get the ball rolling
We need a financial kick-starter, which will be the fire to get things cooking in the Ecolibrium oven; to initiate the project and begin generating income. We know we have the entrepreneurial, technical, and building skills necessary, along with the physical and mental preparation get this project up and running, to turn it into all that we have envisioned.
The project stages for which we are looking for financial support:
Wood Workshop
Multifunctional Communal Building
Initial Accommodations
Crowdfunding – Fundraising
We have been studying the methods in which to finance the project. We prefer not to bring in investors with predominantly profit interests, as having the sole focus of making a return does not align with our goals for the project.
This is why we have come to the decision of using a combination of crowdfunding platforms and contacting foundations that finance projects with objectives such as ours.
This will be achieved by advertising our project on crowdfunding platforms, approaching foundations, and requesting financial help from the public, detailing our roots, goals, and why we need funding; what we are doing is opening up to all, reaching out and sharing our dreams with hopes to capture the minds and hearts of those willing to listen, support and join us.
We will provide consistent updates of the project and it's progress on social media platforms, on our website and through newsletters, as we want those who follow us and support us to be with us every step of the way.
Final Note
This project will continue to grow and evolve as we are striving to not only create an eco compound but to be a symbol; inspiring, motivating and helping all those we are able to reach. We will keep everyone updated on this exciting process, and we hope that more people will contribute and join us in our effort to make this dream a reality.
It is just the beginning, and the sky's the limit.