Experience a Permaculture Eco Farm in Brazil
Welcome to Eco Caminhos a self-sustaining Eco Farm situated in the beautiful Atlantic Forest mountain region in Brazil. We invite people from across the globe to join us and experience our simplistic lifestyle in a peaceful setting disconnected from the hectic world. At the farm we follow the permaculture principles and you can learn about and practice bioconstruction (natural building), agroforestry (syntrophic farming) and renewable energy. In your free time you can share a nice healthy meal at a campfire, go hiking or do horseback riding in the mountains, jump under one of the amazing waterfalls or do a nice board game with the other residents. We offer you Portuguese classes and the possibility to live at the farm with other residents or submerge yourself in the local culture and language by doing a homestay with local families.
Choose your preferred programme
We offer a number of different programs to volunteer in Brazil adjusted to everyone's interests and availability:
Eco Experience (1 week – 4 weeks)
Short-term volunteering (4 – 12 weeks)
Long-term volunteering – 100% Free (+1 year)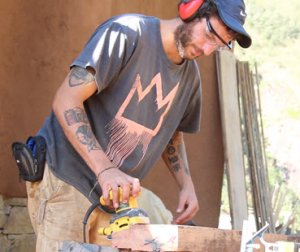 Long-term volunteering in Brazil – 100% free At our eco farm in Brazil we apply bioconstruction, agroforestry, organic farming while following the permaculture philosophy. We welcome volunteers to join Eco Caminhos, offering an unforgettable experience of living, working, and learning in the beautiful mountains ...
Read More
Our Video
Misson – Permaculture
Eco Caminhos wants to become a role model in Brazil and beyond when it comes to social development and sustainable building and living. We follow the permaculture principles, living in harmony with nature. We treat our waste and produce our own food and energy, while the land grows in richness, productivity and aesthetic beauty. Eco Caminhos is also dedicated to training underprivileged youth.

Read More
What free activities can you expect?

What makes our farm so special?  
At Eco Caminhos we offer people the chance to experience life on our eco farm.  You actively participate in all aspects of it, no matter how short your stay might be. We want you to feel part of Eco Caminhos. People who join us learn about bioconstruction, farming, permaculture, and, above all, about themselves. It is also a great place to make friends from around the world.

Eco Caminhos news
Read More